Welcome to the UnOrdinary Wikia!

A wikia dedicated to chronicling uru-chan's original webtoon series,

UnOrdinary

since September 2016.

We are

currently editing

over

223

articles.

Careful: This wiki contains

spoilers

, read with caution!
Latest Chapter
Chapter 92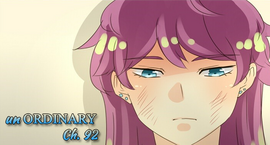 "Chapter 93" should be released on LINE in

May 24, 2018 04:00:00 UTC

!
Good luck waiting!
The world is not perfect. Learning to deal with its flaws is just a normal part of life. But there comes a point where these imperfections spawn a crushing realisation... that something needs to change...
External unOrdinary Links
Extra Content
For more content and information on unORDINARY, check out these links!
Other Communities
To dive into the unORDINARY community, visit these links!
Spring Season 2018 Anime Wikis

TV Anime

Multiseason

TV Shorts

Movies

OVA / ONA / Special